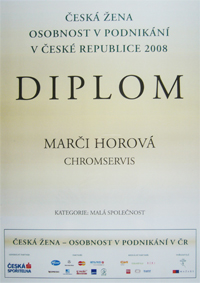 Chromservis sro ® was founded in 1989 as a consulting company. In 1990, it was transformed into a trading company focusing primarily on the supply of accessories for chromatography and sampling in the work environment. The development and results of the company took advantage of the year 2008, when the company's executive Marči Horová received the award " Czech woman - a personality in business in the Czech Republic " in a group of small companies. This competition is organized by Dun & Bradstreet ( D&B ) according to strict criteria.
In recent years, the company has experienced significant development and focused on the distribution of products of many leading foreign manufacturers in the field of laboratory instruments and aids, equipment for measurement and control in industrial plants, equipment for securing people and technology against dangerous gases, sampling and processing equipment , their extraction and purification.
Chromservis sro is divided into two divisions, for which product specialists are responsible. This ensures full application and technical support for users. These divisions are:
Laboratory applications (analytical instruments and accessories)
Measurement and regulation ( gas detection and analysis , measurement of physical quantities)
In 2020, Chromservis began production of its own HPLC columns. For this purpose, it has a development and production laboratory, including the provision of output quality control. At the same time, it cooperates with the Institute of Chemical Technology, Charles University in Prague and FaF Charles University in Hradec Králové on the development of new stationary phases and their use in the field of HPLC. It launched the new brands ARION, ASTRA and CHROMSHELL. You can find more on the pages dedicated to HPLC columns .
At present, Chromservis sro has sales and service branches in Prague, Brno and Ostrava, and a partner consulting and service company AP Servis in Přelouč. In 2010, the subsidiary Chromservis SK sro was established with its registered office in Bratislava, which operates in Slovakia. In addition, the company has offices in Bulgaria with branches in Sofia and Russia.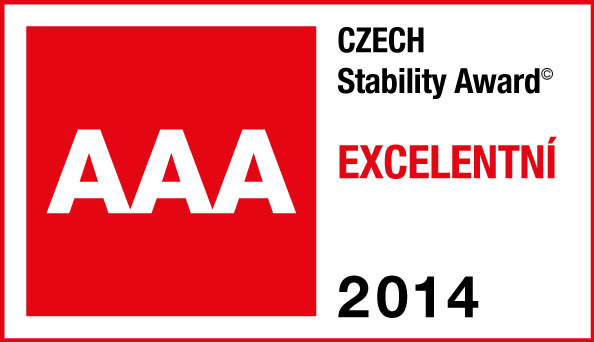 In 2014, the company received the Czech Stability Award in the CZECH TOP 100 rating and thus ranked among the most stable companies in the Czech Republic.
Today's main activities of the company are:
Sale
Services
Gas distribution for analytical instruments
Delivery and development of custom applications in conjunction with chromatographs and analyzers
Training and consulting in the field of analytical chemistry
Occupational safety training with a focus on gas detection
Our goal is to provide products and services that exceed the expectations of our customers and they will continue to turn to us with confidence (see our quality policy ).
Production
Production of chromatographic columns
Company presentation
Chromservis sro and its subsidiary Chromservis SK sro participate in major exhibitions, such as Laborexpo , Analytica and Achema.
Leisure
Because we put interpersonal relationships at the forefront of our values, we also organize extracurricular activities. These include the autumn and winter meetings of our employees with various programs or participation in the QuintaCup volleyball tournament. Among the interesting activities we have undertaken is a visit to the inaccessible Býčí skála cave in the Moravian Karst. We owe this experience to the Czech Speleological Society .