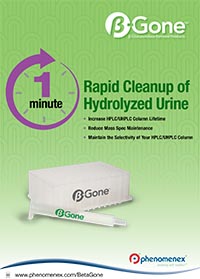 β-Gone β-Glucuronidase Removal Products are designed to target and remove β-glucuronidase from hydrolyzed urine samples without requiring additional time or method development.

In a single step and in less than 1 minute, your hydrolyzed samples are ready for
analysis.
Increase HPLC/UHPLC Column Lifetime
Reduce Mass Spec Maintenance
Maintain the Selectivity of Your HPLC/UHPLC Colum
Click here to download the product information.